Rust Remover
Welcome to DE-OXY-DOES-IT, the world's first and best rust remover Guaranteed!  Award winning DE-OXY-DOES-IT has been de-rusting metal since 1989, proudly serving all branches of the U.S. Military, Automobile Enthusiasts, Government Contractors, the FBI, Farmers, Forensics Labs, Antique Restorers, Engine Rebuilders, and more.
DE-OXY-DOES-IT is great on Rusty Car Parts, Home Tools, Antiques, Crafts, Rusty Sinks and Tubs, Rust-Stained Driveways, Automotive Body Panels, Fuel Tanks, and much much more!  DE-OXY-DOES-IT is super easy to use, and can be reused many times over and over again!
DE-OXY-DOES-IT can be sprayed on Body Panels to remove light surface rust and to leave a phosphate coating, which promotes excellent paint adhesion and makes a simple rust remover. DE-OXY-DOES-IT is especially good at stripping heavily rusted parts, just soak the rusted components in the DE-OXY-DOES-IT solution until all the rust is totally gone.
Once the soaked part is completely rust-free, rinse with water, and allow it to dry. The part is now ready for painting, oiling, or the refinishing of your choice. This method is far superior to sandblasting which can warp sheet metal and peen over the metal to trap rust in the pits, which will allow the rust to come back in the future.
DE-OXY-DOES-IT is environmentally friendly rust removal product!




DE-OXY-DOES-IT is organic, water-based, biodegradable, and presents no known hazards.  De-OXY-DOES-IT is safe on the skin, it is non-flammable, non-hazardous, non-toxic dermally or orally, produces no VOC's and is easy to dispose of after usage.
DE-OXY-DOES-IT will not harm brass, copper, chrome, cast iron, glass, plastic, vinyl, rubber, cork, gold, steel, lead, solder joints, titanium, or wood and makes a great rust removal product.
DE-OXY-DOES-IT has an indefinite shelf life and can be used over and over until it simply stops working.
DE-OXY-DOES-IT is super concentrated and lasts twice as long as the leading competition. When used properly, 16 oz. of DE-OXY-DOES-IT concentrate, will yield two full gallons of working solution! On average, one gallon of DE-OXY-DOES-IT will de-rust up to 500 pounds of light to moderately rusted steel.
Have a small job and don't need a lot of product? Need more proof?
Our 8 oz. Trial Size is the perfect size for those small de-rusting jobs and a NO-RISK way to discover DE-OXY-DOES-IT! Our 8 oz. Trial Size bottle will yield one full gallon of working solution and comes with FREE shipping to anywhere in the continental United States. Like all DE-OXY-DOES-IT products, our 8 oz. Trial Size comes with our unconditional satisfaction guarantee!
You're viewing the rust remover and removal index page.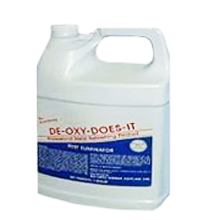 Safest Rust Removing Solution